The town of Nueva Era in Ilocos Norte is one of the three municipalities of Ilocos Norte with tribal communities, along with Adams and Dumalneg.
With its rich culture, flourishing ambiance, and unspoiled ecological tourism, this third class municipality, has evolved into contributing in the booming tourism industry of the province.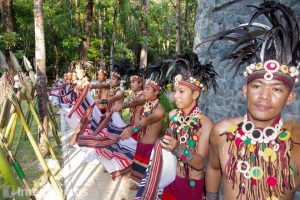 Making its waves is the established eco-cultural park here which is now one of the most-visited sites of tourists and visitors in the eastern part of Ilocos Norte.One who visited the place must have experienced refreshing sight of ecological and tribal fusion.
"We are glad for the continuous influx of tourist visiting in Nueva Era eco-cultural park since its launching in 2013," Vice Mayor Aldrin Garvida said.
Garvida said they will continue maintaining the cleanliness and beautification of the spot to attract more tourists in their municipality.
The eco-park, which represents the indigenous culture of the Tingguian community here, highlights the people's way of living which can be seen in the intricate interior of the tree huts and houses.
While visitors can relish the genuine customs and traditions of the Tingguians, they can also enjoy other recreational activities such as the hanging bridge and swimming pool.
They can be further entertained by cultural dancers performing a ritual dance called "tadek." These dancers are clad in traditional Tingguian costume to show further the identity of the ethnic group.
Tadek is a means of thanksgiving for a new couple who are believed to bring forth blessings and perseverance to the whole Tingguian community.
To show support to the booming tourism of Nueva Era, the Provincial Government of Ilocos Norte led by Governor Imee R. Marcos has included the eco-tourism park as part of the ANARAAR Tour that features the cultural heritage of the province.
The municipality of Nueva Era is also named as the "Little Baguio" of Ilocos Norte with its cool temperature as it is located at the foot of the mountain. (JNPD/CJDG, PIA1-Ilocos Norte)